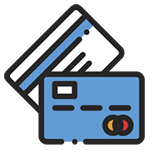 By providing an integrated card processing system from Shift 4 Payment Processing, Meadows Hospitality Systems provides you with an integrated hardware and software product for which MHS provides complete LOCAL support. It's easy for you to use and track, and if something does happen, a technician who lives and works near you will be there to get things running again quickly.
Check out the features of the Restaurant Manager payment processing system from Shift 4. If you are looking for speed, accuracy and 100% uptime, then this is the system for you. Already have a provider? You will immediately see a difference in speed, safety and reliability when you change to Restaurant Manager with integrated Shift 4 processing.
Competitive processing rates – Let MHS perform a rate review to ensure that you receive the best rates available.
A solid system – We have had 100% system uptime since 2008 with fully redundant, geographically diverse data centers powering our robust processing infrastructure.
Process payments if offline – If the Internet goes down, your business does not have to. With RM Payments, you can accept credit card payments even if the Internet is offline.
Avoid chargebacks – If you are not accepting EMV, you are leaving your business vulnerable to counterfeit credit card fraud. RM Payments enables your business to accept EMV chip cards for enhanced security. Merchants who don't accept EMV payments may incur increased liability for data breaches and chargebacks.
Ironclad protection – The PCI-validated Point-to-Point Encryption (P2PE) solution prevents cardholder data from entering your payment environment – protecting your business and customers from the harmful and costly effects of a data breach.
Enhanced security – The RM Payments tokenization solution replaces sensitive cardholder data with a random alphanumeric value, delivering a powerful tool for merchants who want an extra layer of security to protect their sensitive data.
Reduce compliance costs – Drastically decrease the overhead and resources needed for PCI compliance. Restaurants with the RM P2PE solution are not required to have annual systems scans and the number of questions on the PCI Self-Assessment Questionnaire (SAQ) is greatly reduced!
Call 888-777-8311 now to learn more and to schedule an appointment.