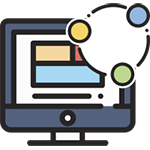 Meadows Hospitality Systems provides complete Point of Sale, Pay at the Table, Customer Relationship Management and Card Processing software from Restaurant Manager Point of Sale, Shift 4 Payment Processing and Lighthouse Business Management systems. These integrated systems allow MHS to offer and support the very best way for you to take and manage orders, process payments and track customer information.
Easily Split Checks – Very easily split a check into as many separate checks as necessary. Split checks by item, by seat or evenly between guests.
Quickly Train Employees – Intuitive software interface means new employees can easily get up-to-speed quickly. Training mode allows new employees to maximize their training time.
Powerful Management Information and Controls – Provides complete control over all operational and reporting functions. Program events are automatically activated at a specified time. For example, schedule special messages to appear on the POS screen to keep employees informed.
Real-time Alerts – Sent via email or cell phone text messages. Powerful triggered messaging system to keep you apprised of important metrics. In other words, RM can text you when it detects something you want to know about the restaurant.
Real-time Sales Results – With extensive reporting features like real-time sales statistics, product mix reports, stock and item counters, and server sales totals, you spend more time with your customers and still keep up with the latest profit margin and performance measures.
Print/Display for Food Prep – Make fewer kitchen errors and improve customer satisfaction with features such as "updated item" banner alerts and displaying the quantity for modifiers.
Guest Checks/Receipts – Reprint receipts from any date at the POS with the original date stamp.
Catering Deposits & Other Payments – Process payments on advance orders regardless of date, creating a new revenue stream and reducing fraud and error.
Server Teams & Tip Tracking – Create configurable teams for proportional splits. You will be able to improve customer service, satisfy IRS tip reporting and speed end of day reporting all while enhancing employee satisfaction.
Hold & Fire by Course – Automatically release/fire items by course, improving timing on service, turning tables faster, increasing operational flexibility and increasing customer satisfaction.
Fast Order Switching – Quickly and easily switch between existing orders and start new orders directly from the order entry. Workflow at a busy bar or club can be significantly streamlined with the number of touches cut by 60%.
Price Scheduling – Schedule happy hour promotions or appetizer specials to make sure you collect the right amount at the right time.
Speedy Transaction Times – One-touch "next round" ordering, quick tab pre-authorizations, finding an open tab to add or settle, and easy tab transfers deliver speed customers have come to expect.
Recipe Look-Ups – Give bartenders instant access to drink recipes from the bartender's bible.
Back Office Reporting – the powerful Report Interface give you complete access to any piece of information. You will be able to improve management with these reports and stay in compliance with local regulators.
Promotional Tools – Powerful marketing to reach out to and extend your customer base.
Coupons – "Smart Coupons" prevent staff from applying discounts to non-qualifying orders. Robust coupon definitions allow tight control.
Video Tracking – Transaction information can be overlaid on compatible video systems to ensure that each item served is paid for when ordered.
Gift Cards – Manage the sale and redemption of gift cards.
Guest Accounts – Establish and maintaining customer accounts to track balances. Generate mail-able invoices.
Credit Card Tabs – Provide a controlled environment for standees or floaters in a bar who want to have a bar tab on a credit card.
Liquor Control Devices – Interface to liquor control systems to manage pour and inventory.
Loyalty Club – Create robust loyalty clubs that customers can participate in. Track their spending, visits and items purchased. Give rewards (Free items, coupons, discounts, etc..) based on criteria you set.
Reservations – Reduce errors by booking reservations online and efficiently manage restaurant capacity with waitlists. Send a text message when customer's table is ready.
Online Ordering – If your business isn't online today, you are losing sales. Period. Generate new revenue streams, provide your customers with an easy and convenient way to place orders and increase sales while reducing labor costs.
Inventory Control – Save thousands of dollars and eliminate theft and waste by tracking inventory depletion, especially high-dollar items like steaks and lobster that are often the target of internal theft. Get real-time stock and item counts from any POS station.
Advance Ordering – The POS system can store an order for a future date or time and automatically send it to the food prep area at the appropriate time.
Kitchen Display Monitor (KDS) – Rather than printers, RM can output to display screen in the kitchen. Metrics provide owners with detailed information on where bottlenecks happen and how to eliminate them.
Pizza Ordering Screen – RM has a special ordering screen just for pizzas making them fast and efficient.
Caller ID Interface – Callers are identified by their phone number for easy retrieval.
Coin Dispensers – Speed up service and allow for easy cash management.
Combo Meals – Automatically tracks orders to group eligible 'combo' items together.
Call 888-777-8311 now to learn more and to schedule an appointment.