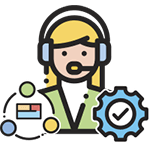 Meadows Hospitality Systems supports Restaurant Manager Point of Sale and Shift 4 Payment Processing 24 hours a day, 7 days a week, 365 days a year. It's our goal to provide technical support and service that is second to none.
When you call MHS for support, your call will be answered by an experienced technician who lives in Central Florida and speaks English.
We answer technical support calls within 3 rings 98% of the time.
The only time the phone is not answered by a live person is if our technicians are on calls with other customers. You will be called back within 10 minutes.
Our customers tell us that MHS provides them with the best technical support they have ever experienced.
When a customer requires on-site support, we dispatch a technician who arrives at your location with replacement equipment and makes certain your problem is fixed.
Many of our competitors only provide support from a call center hundreds of miles away from their customers' place of business. MHS ONLY sells to customers where we are able to provide local on-site service.
Call 888-777-8311 now to learn more and to schedule an appointment.